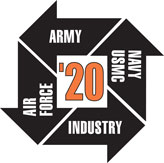 I/ITSEC 2020
Interservice/Industry Training, Simulation & Education Conference 2020
CANCELED
Was scheduled:
November 30 - December 4th, 2020
Orange County Convention Center
Orlando, FL
THE WORLD'S LARGEST MODELING, SIMULATION, & TRAINING EVENT!
"WINNING THE WAR OF COGNITION BY PUSHING READINESS AND LETHALITY BOUNDARIES"
Join JVC Visual Systems  at I/ITSEC 2020 as we unveil and demonstrate our latest simulation and training technologies and products.

About I/ITSEC
The Interservice/Industry Training, Simulation and Education Conference (I/ITSEC) is the world's largest modeling, simulation, and training conference. It is always held at the end of November in Orlando, Florida, USA, and it consists of peer-reviewed paper presentations, tutorials, special events, professional workshops, a commercial exhibit hall, a serious games competition, and STEM events for teachers and secondary students. I/ITSEC is organized by the National Training and Simulation Association (NTSA), which promotes international and interdisciplinary cooperation within the fields of modeling and simulation (M&S), training, education, analysis, and related disciplines at this annual meeting. The NTSA is an affiliate subsidiary of the National Defense Industrial Association (NDIA). Hence, I/ITSEC also emphasizes themes related to defense and security.